5 Best Botanical Gardens in Los Angeles: A Guide to Nature's Tranquil Oases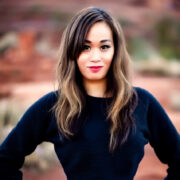 Jeanie Casison
Born in San Diego, California and raised in the suburbs…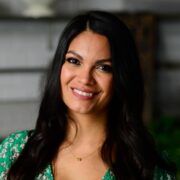 Maria Alaniz
Maria H. Alaniz is the Director of Social Media for…




View Gallery
While Los Angeles may be a bustling city, nestled in and around its sprawling landscape are several serene botanical gardens in Los Angeles providing the perfect nature escape. Within these green spaces are vibrant displays of plants, flowers, trees, water elements, gentle wildlife, and other thoughtful touches that promote relaxation and wellness. Stunning showcases of beautiful blooms paired with enriching programming make these enchanting destinations worthwhile visits year-round. Ready to explore? Set your sights on these notable spots that stimulate the senses and invite you to take in the wonder of the great outdoors.
Descanso Gardens: A Haven of Flora and Fauna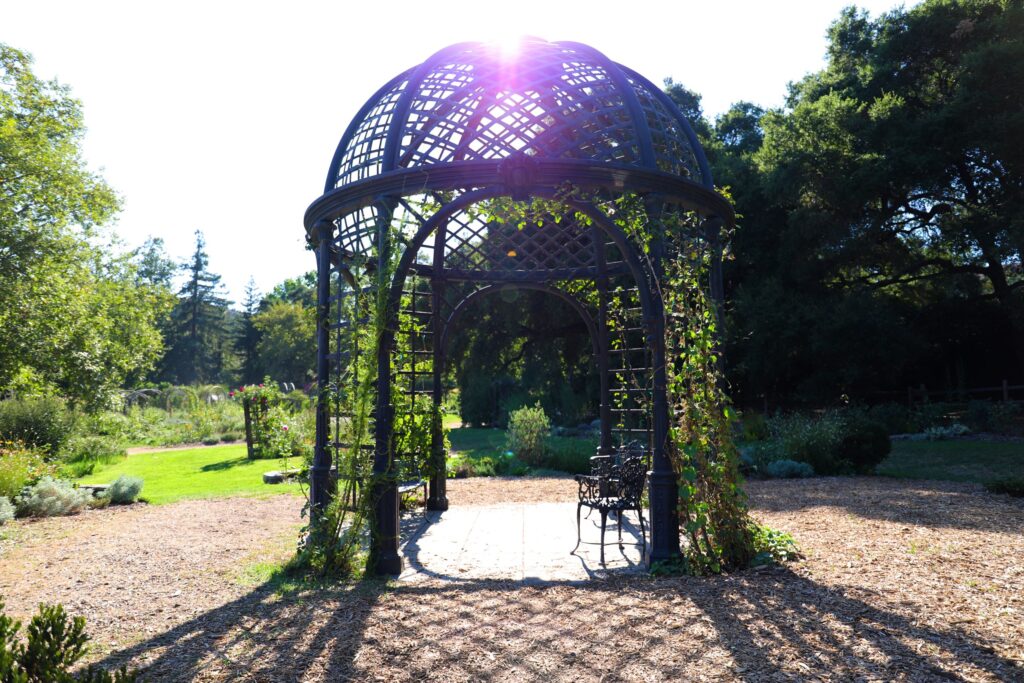 Set in La Cañada Flintridge, about a 20-minute drive from downtown Los Angeles, Descanso Gardens spans 150 acres and delights with harmonious horticulture all around. Founded by E. Manchester Boddy in 1953, the gorgeous grounds listed on the National Register of Historic Places feature scenic walking paths, gentle streams, lush flora, and majestic woodlands. Head to the Rose Garden to smell and see the significant collection of 1,600 roses and beautiful companion plants before making your way to the classic Japanese Garden, a lovely locale to reflect surrounded by native Asian flora, azaleas, Japanese maples, a stream filled with koi and a traditional teahouse. Afterward, meander to the Ancient Forest, where you will encounter 180 plants representing 60 varieties, including cycads, or the 8-acre California garden to glimpse poppies, Palo Verde trees, and other exquisite plants. At some point, pop into the Stuart Haaga Gallery to check out the latest exhibits from contemporary art to botany and conservation, and if you need a bite, unwind at The Kitchen, known for its menu of seasonal selections featuring healthy ingredients from local farms and gardens.
Location: 1418 Descanso Dr, La Cañada Flintridge, CA 91011
Website: http://www.descansogardens.org/
Best Known for:
Coast Redwoods
One of the largest collections of camellias in the Western Hemisphere
Rose garden
The Huntington Library, Art Museum, and Botanical Gardens: A Paradise of Art and Nature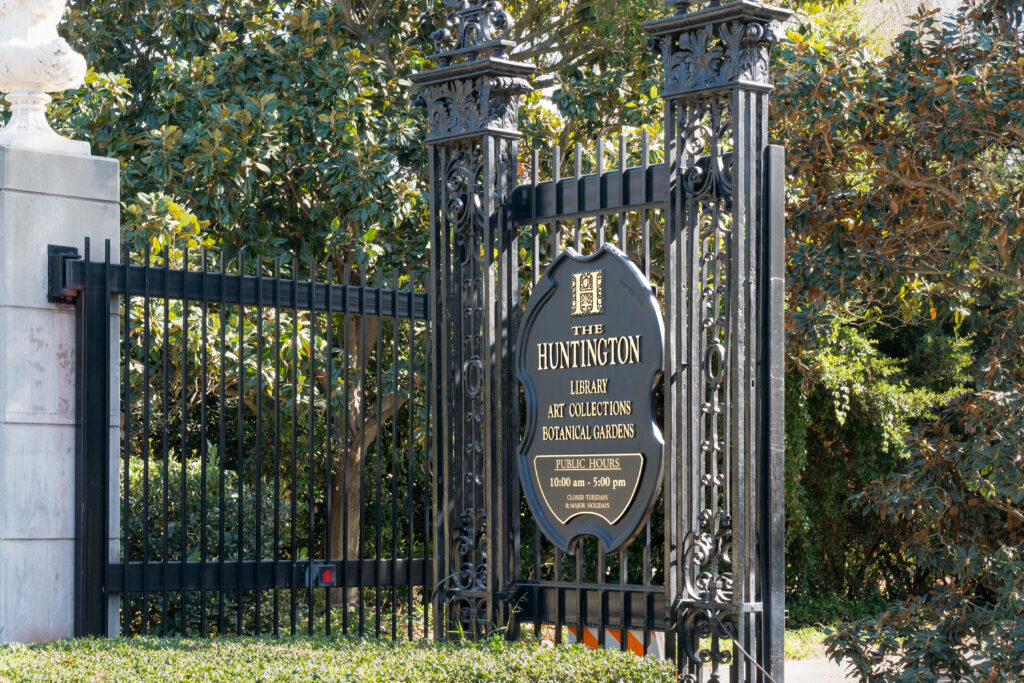 Indoors and out, The Huntington Library, Art Museum, and Botanical Gardens are captivating. The sublime haven, established in 1919 by railroad magnate Henry E. Huntington sits in San Marino, just over 20 minutes from downtown LA. In this center of calm, captivating contrasts of natural beauty catch the eye across the 16 themed gardens featuring more than 83,000 living plants. Here, diverse environments inspire you to connect with nature, such as the sun-kissed Desert Garden, home to one of the largest outdoor collections of cacti and succulents. At the Chinese Garden or Garden of Flowing Fragrance, it is easy to marvel at the Suzhou-style gardens, authentic pavilions, and a peaceful lake. Also, enriching programming, including music recitals and more, promotes reflection and rejuvenation. Other highlights include the Jungle Garden, Conservatory, and outdoor sculpture area—and that is just within the botanical gardens. If time allows, visit the legendary and lovely Rose Garden Tea Room, which opened its doors after closure and renovation.
Location: 1151 Oxford Rd, San Marino, CA 91108
Website: https://www.huntington.org/
Best Known for:
California Garden
Camelia Garden
Shakespeare Garden
Los Angeles County Arboretum and Botanic Garden: Darling Discoveries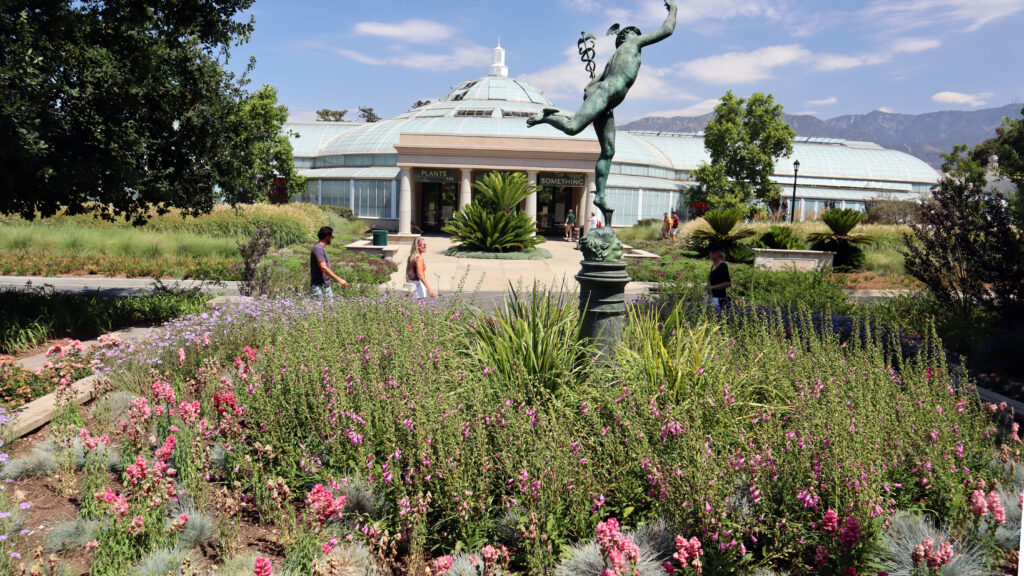 Away from hectic city life in nearby Arcadia lies the Los Angeles County Arboretum and Botanic Garden, where balance, beauty, and simplicity beckon. There is much to take in inside this idyllic place, from the thousands of fantastic flowers and plants to the ripples of Baldwin Lake and other pretty areas. Stunning settings, such as the Rose Garden, Celebration Garden, and Aquatic Garden with waterfall views, especially stand out, providing picturesque backdrops to capture the moment. Nature lovers can immerse themselves in activities that support their well-being, from Tai Chi to yoga in the gardens, and other special events, such as Full Moon Forest Bathing, Sound Baths, and Living History Walk Hikes in the evening.
Location: 301 N Baldwin Ave, Arcadia, CA 91007
Website: http://thejapanesegarden.com/
Best Known for:
The Japanese Garden: A Serene Setting in the Heart of Van Nuys
Breathing in fresh air while walking winding paths is a splendid way to spend time. Those with a penchant for the outdoors can do just that at The Japanese Garden. Part of the Sepulveda Basic Recreation Area in the Lake Balboa district of the San Fernando Valley, this sensational public space designed by Doctor Koichi Kawana has three gorgeous gardens. Over at the dry Zen mediation garden, also known as karensansui, visitors will find Tortoise Island, a verdant green area adorned with dichondra that draws inspiration from the tortoise, a symbol of longevity, and the Plover Bird Path surrounded by the wisteria-covered arbor. Expect a change of scenery in the Chisen Stroll Garden with its greenery, water lilies, lotus flowers, traditional lantern décor, viewing bridges, and waterfalls representing three different states: falling, flowing, and still. Adjacent to a traditional teahouse building, the final area to explore is the Tea Garden with bamboo hedges, stepping stones, and other distinctive details.
Location: 6100 Woodley Ave, Lake Balboa, CA 91406
Website: https://thejapanesegarden.com/experience-the-garden/
Best Known for:
Wisteria Arbor
Tortoise Island
Wet-strolling Garden
South Coast Botanic Garden: An Urban Sanctuary
An inspiring place to explore, the South Coast Botanic Gardens strives to connect people to the wonders of nature through experiences rooted in stewardship and sustainability. At this 87-acre serene haven in Los Angeles County, there is something new to see every season. Natural exhibits, such as the Banyan Grove, California Native Plants, Mediterranean Garden, and the Garden of the Senses, instill a sense of wonder and appreciation for our surroundings. Throughout the year, there is special programming, including classes, such as Mind Drop Meditation: Music Hypnosis & Mindful Meditation and the seasonal Sunset Series featuring outdoor music concerts, and SOAR – Tropical Butterflies, an exhilarating chance to get up close and learn about the metamorphosis of the bold winged creatures.
Location: 26300 Crenshaw Blvd, Palos Verdes Estates, CA 90274
Website: https://southcoastbotanicgarden.org/
Best Known for:
The Atlas Moth
Art to Save the Sea
Cultivating Well-being and Mental Health Through Gardening
Immersing yourself in nature can go beyond visiting the botanical gardens of Los Angeles. You can bring the joys and benefits of greenery and lush landscapes to your backyard through gardening. Along with being an enjoyable activity, recent research from the Mayo Clinic and other organizations reveals that gardening offers several health benefits, including lightening mood, lowering stress and anxiety levels, and boosting Vitamin D. Whether planting flowers, fruits, or vegetables, embracing this relaxing pastime is a meaningful way to enhance everyday living while giving back to yourself and Mother Earth.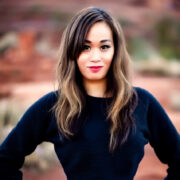 Jeanie Casison
Born in San Diego, California and raised in the suburbs of Washington, D.C., Jeanie Casison was on the move starting at an early age when family trips brought her everywhere from the provinces of the Far East to the amusement parks of Florida. After graduating from college, Jeanie was fortunate to find a writing job that allowed her to pursue her passion for foreign places and reveling in new experiences. Over the years she has traveled extensively throughout Europe, Asia, North America, South America, the Middle East and the Caribbean to cover destination developments. As for wellness pursuits, she enjoys practicing kundalini yoga, meditation, spin classes and anything that raises her vibration.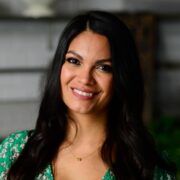 Maria Alaniz
Maria H. Alaniz is the Director of Social Media for Breathe Media, a Miami-based media company promoting wellness and mindfulness. With years of experience in managing influencers, project management, and social creative leadership, Maria brings a wealth of knowledge to the team. She is also a weekly contributor to Breathe Media domains, providing new insights and perspectives on wellness experiences. Maria is dedicated to inspiring people to live healthier, more fulfilling lives through her work with Breathe Media.